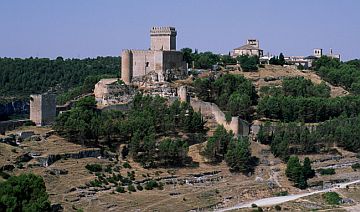 Alarcon, Castile La Mancha, Spain


Alarcon is south east of Madrid and directly west of Valencia on the Mediterranean coast. This stunning medieval village sits on top of a rocky ravine looking down over the River Jucar, and when you see how the river surrounds three sides forming a natural moat it is no surprise the early settlers chose this location.

Alarcon has a long history which goes back to pre-Roman times, however during the 8th century it was occupied by the Arabs who built a magnificent fortress. In fact it was the Moors who gave the village its name which actually means 'fortress'. Many centuries later during the 14th century the castle became the home of Don Juan Manuel, a famous Spanish prose writer.

Most of the original wall that surrounded the village is still intact, and actually it would be hard to find a more unspoilt village in this region. This is one of the reasons why it was declared it a Historic-Artistic Site. If you come by car there is a car park at the foot of the village, and from there you can stroll through its narrow streets soaking up the peace and serenity of this charming little village. It is because of this tranquil atmosphere that more and more visitors are being drawn to Alarcon.

The Plaza Mayor, which is the town's main square, has been dedicated to Don Juan Manuel. This is where you will find its most important buildings such as the Town Hall and the 16th century San Juan Bautista Church. If you enjoy nature trails there are some amazing walks along the gorge, especially for bird lovers, with several different birds of prey such as the Eagle nesting in the crags of the cliff face.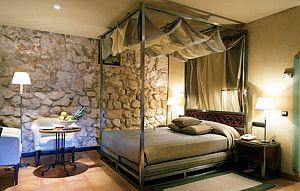 The castle has since been converted into one of the town's finest hotels, the 4 star Parador Alarcon (Hotel Marquis de Villena), incorporating all the comforts of modern living whilst retaining its original features. Although the Parador does not have its own restaurant there are some excellent places to eat in the village. Perhaps for your first evening you might want to try La Cabana de Alarcon, as it comes highly recommended for both its food and service.

Not far from Alarcon are two rather special places to visit while you are there. Casasimarro is directly south and is famous for its craftsmen who specialize in producing handmade guitars and lutes. Or for those who enjoy the great outdoors, the Hoces del Cabriel Nature Reserve is just east of Alarcon and covers a massive area of over 31,000 hectares.

This wild and untouched reserve is a lifesaving refuge for several endangered species. There are some very popular free guided tours you can join, although you will have to book days in advance. If you follow the trails along the Cabriel River you can still see the remains of ancient bridges and waterwheels, as well as the salt mines that were still in use until recent times. There are also several archaeological sites in this area, and one of the most interesting is Puente de la Via where they have uncovered fossils of giant camels.

So if you want to explore the beautiful region of Castile-la-Mancha and are looking for a truly relaxing experience, you must come to Alarcon and treat yourself to a rather special stay in the castle.