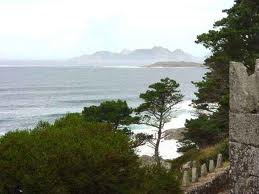 Isles de Cies from Bayona


The Isles de Cies (Islands of the Sky) are a favourite day out. Seeing the long white sandy beach as the ferry boat approaches always reminds me of a tropical paradise. It has been named as one of the best beaches in the world in a few polls, including a list created by The UK's Guardian newspaper. Backed by small dunes sheltering a calm lagoon of crystal-clear water with pine forests, white sands and turquoise blue waters, it is easy to see why. One thing to mention though is that the water can be cold, remember that this is not the Mediterranean.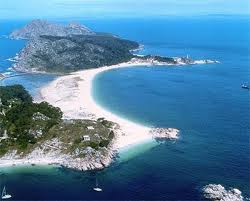 The Islands are on the west coast of Galicia, north Spain and are a nature sanctuary. They are at the mouth of the Ria (Inlet) containing the busy harbour of Vigo although it is nearer the popular holiday and sailing resort of Bayona (Baiona). There are no hotels on the island but there is a camping site. Yachtsmen are also allowed to anchor overnight in the bay.

As my yachting days are now behind me, on my last visit we stayed two nights at the Parador Bayona Parador. This Parador is inside the fort on the promontory that shelters the harbour from the winds. Unfortunately for the people of Bayona, the fort did not protect them from, to use their words, that English Pirate Drake' when he ransacked the town when 'singeing the King of Spain's beard'. Bayona was the port where the Pinta' docked to bring news of the discovery by Columbus of America and the New World. A replica of the Pinta' is moored in the harbour.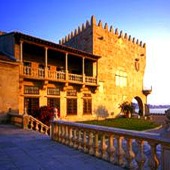 The Parador Bayona is a recent building in the style of a local manor house and built with large granite stones. Like all the hotels in the state owned Spanish Parador Group, there is high class accommodation with the traditions and dishes of the local area being retained.

The ferry to the Cies Islands is a large catamaran which takes about 45 minutes, passing close to other islands on the way. It is operated by Naviera Mar de Ons whose hard to use website, in Spanish, is at http://www.mardeons.com

On my visit, the ferry left Bayona at 10.15 a.m. and 12.15 a.m. On arrival, walk back south along the path behind the beach and through the camp site. Stop for a coffee or a beer and use the toilets before continuing to a small bistro type restaurant a little further along the track, under trees overlooking the beach and sea for lunch. Remember that in Spain, lunch service will not start until 2 o'clock and the clock is one hour ahead of Portugal

After lunch it is a snooze for me, the beach for the youngsters or a walk to the lighthouse for the energetic. Then amble back the kilometre to catch the 7.15 ferry back to Bayona although there is a later one to Vigo.

Being a nature reserve, there are strict rules to preserve the habitat which must be obeyed. The ferries are only allowed in the three summer months and cease at the ebd of August. Also you must keep to the recognised paths.

Naturists will be pleased to know that there is a nudist beach tucked discretely away behind the café by the ferry pier.

The weather is usually fine in summer here. The winds are calm in the morning becoming fresh from the north in the afternoon and dropping again during the evening. This is ideal weather for this visit since the sea is calm for the morning journey, the beach is sheltered but the heat of the afternoon is cooled by the northerly breeze and the journey back is with a following wind.

The nearest airport is Vigo but both Santiago de Compostela and Porto (Oporto) are within easy reach by motorway.


More information on: Parador Bayona
More information on: Isles de Cies

About the Author: This article was written by David Lumby who lived and worked in Portugal for over 20 years. On retirement he spent two summers on his yacht in the Algarve and has wriitten books on the Portuguese harbours and anchorages. He now resides in Harrogate
webpage www.vvww.net