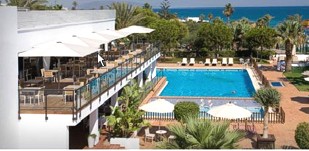 Mojacar - Andalusia, Spain


Perched on a hillside, Mojacar spills down towards the Mediterranean on the east coast of Spain. It is utterly enchanting with its white washed houses and narrow streets. Bordering the Tabernas Desert, it attracts many visitors because it is blessed with dry, sunny weather all year round.

Going back as far as the Bronze Age, Mojacar and the surrounding area was quite wealthy during Arab rule, partly due to the fact Christians, Muslims, and Jews were able to live in harmony. The city gate was the original entrance while the Moors ruled, and near the gate is the 14h century Santa Maria church, which was not only a place of worship but was also a fortress to protect the village.

Over the centuries, regular invasions changed it fortunes, and after the Spanish Civil War, followed by severe drought, the disappearance of the fishing industry, by 1960 its population was reduced to less than a thousand inhabitants. However being such a beauty spot with fabulous weather, tourism eventually got it back on its feet.

Its picturesque outlook has always attracted artists and writers over the centuries, and indeed many of them chose to live there all year round. The town comes alive during the summer months with its annual festivals, such as the Moros y Cristianos in June and the San Agustin in August. October celebrates with the Virgen del Rosario Festival.

The main square in town is the Plaza Nueva, with lovely views of the surrounding area. This is very much the hub of the town, where village life carries on as normal. When you get there look for the fountain fed by a natural spring water, as it dates as far back as the Romans.

The nearest airport, train, and port is 80 kilometres away, so car hire is probably a must. But with so many activities to enjoy in the area, such as tennis, golf, sailing, and various water sports it is well worth doing. You will enjoy the drive along the majestic coastline and will be charmed by the welcoming atmosphere of the mountain villages. You can explore the Almanzora caves with its fascinating formations, which were created over the centuries by dripping water. Other popular places to visit are the Cape of Gata, and the Alpujarra region of Almeria.

Because of its popularity, Mojacar now has its own Parador, which is a modern four star luxury hotel within easy walking distance into town. Being right on the sea front, it has fabulous views of the Mediterranean from the dining room and all the bedrooms have terraces with views as well. Other facilities include a swimming pool, playground for children and a lovely garden to relax in. The restaurant serves dishes that are typical of the Almeria region, as well as international cuisine.

So if you are looking for perfect weather, a wonderful hotel next to beautiful sandy beaches, and the warm waters of the Mediterranean, Mojacar will provide you with everything you need.