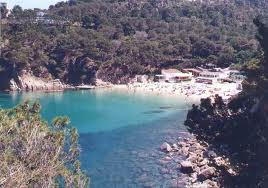 Aiguablava Catalonia Spain


If you are looking for a quiet getaway then look no further than the hidden gem of Aiguablava in Costa Brava. Situated in the region of Catalonia north of Barcelona, translated it means 'blue water' in Catalan. Not surprising when you discover the crystal blue waters of its secluded beaches.


Close to the border of France, the hillsides are dotted with exclusive private villas, most of which are second homes. This particular area is popular with the more middle to upmarket travellers, and as it lacks the usual entertainment required by young families and teenagers, this is exactly why it appeals to the more mature visitor.

This part of the Costa Brava is unlike other Costas. Filled with quaint and timeless villages, it is relatively untouched by the level of tourism you would see in the more southern resorts. Many of the beaches are pebbled and surrounded by rocky sided coves, which can be seen from the popular cliff walks.


If you wish to fill your day with more than sunbathing and swimming there are caves to explore, diving excursions, sailing, parachuting, microlighting, and horseback riding. However, for those who enjoy more sedate pastimes there is also a bird reserve at the Aiguamols National Park and a golf course only 12km away.

As for where to stay in Aiguablava, the first choice for many is the Parador Hotel Aiguablava. This modern four star hotel is set amongst pine trees on a rocky peninsula with spectacular views of the Mediterranean. It has its own sauna, gym and swimming pool, with a restaurant which specialises in seafood cuisine and considered the finest in the area. With the added bonus of being able to dine on the beach during the summer months, what more could one ask for if looking for a romantic getaway.


The walk up to the lighthouse at Saint Sebastia near Llfranc offers further breathtaking views. Not far from town is the picturesque village of Pals, and the medieval fortress of Pertallada. Most of these villages can only be reached by car. However, there is one exception with a bus service to the hilltop town of Begur where you can visit the ruins of a medieval castle.

For all art lovers the Salvador Dali Triangle is a special treat. Castell de Pubol is the southern point of the triangle and has a Gothic-Renaissance mansion which was refurbished in the eccentric style of Dali. The second point of the triangle is Cadaques where Dali actually lived for awhile and several of his works can be seen in the Cadaques museum. The third point is at Figueres where you can visit the Teatre Museu Dali, probably one of Europe's most unusual museums.

Aiguablava offers a tranquil holiday in absolutely stunning natural surroundings. There are many festivals and concerts taking place throughout the region during the summer months which provide a great deal of wonderful entertainment. As it remains a fairly unspoiled part of Catalonia, it really is no surprise so many have chosen it as their home away from home.


About the Author: This article was written by Susan Bartle who is a seasoned traveller and freelance travel writer.
Originally from Canada she currently resides in the UK and recent research has resulted in expert knowledge of the Pousadas and Paradores. Click here to read about other destinations where these luxury hotels can be found.
Or visit her travel website covering countries in Europe and all around the globe.