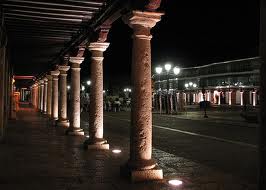 Almagro, Castile - La Mancha, Spain


Almagro dates back to the Middle Ages and is in the province of Ciudad Real, southern Spain. Lying within the mountains, this region is also Cerro de la Yezosa volcano zone which draws in many visitors coming to see the volcanoes, as well as the beautiful lakes and islands of Tablas de Daimiel National Park and Nature Reserve of Lagunas de Ruidera in Campo de Montiel.

Almagro was the centre for the Order of Calatrava when it became their place of residence in the 13th Century, and because of this the city is filled with many buildings of historic interest. In 1285 the Master of the Order worked out an agreement over rights concerning the city's market place and toll roads, and in 1374 Henry II of Castile permitted the city to organise two fairs to aid the economy. As it grew in importance by the 14th century it became fortified with a wall that protected the city. However the walls and gates to the city were eventually demolished in 1886.


One of its many places of interest in Almagro is the Corral de Comedias which was originally an inn also used as a theatre in the 17th century. Now declared a National Monument, it is the only one of its kind in Europe to have kept the original architecture and which is still used today. Two centuries later the Plaza de Toros was built in 1845 and it was in this stadium where the famous bullfighter Cagancho later competed.

Like most Castilian towns Almagro has a central point which in this case is the Plaza Mayor. This square is one of the most extraordinary in Castile and was used for jousting matches. A long rectangular shape, it is flanked on both sides by buildings that are supported by stone colonnades with wooden buildings above painted in emerald green that are almost all windows. It is here that you will also find the most representative buildings within the city; the Town Hall, National Theatre Museum and the Open Air Theatre.

A display of a Roman memorial tablet from Granátula de Calatrava can be seen in the Town Hall. The National Theatre Museum is in a typical large La Mancha house and exhibits interesting collections of theatrical costumes and model theatres of the 18th century. But the most intriguing is the 16th century Open Air Theatre which is also a National Monument, and very typical of the type of theatre where performances were put on during the Spanish Golden Age. Visitors are allowed to visit its galleries, stage and dressing rooms, and every year in July this is where the International Classical Theatre Festival is held. This festival is so large that it has to extend beyond the theatre with street stages throughout the city. August is also another special time to visit Almagro as this is when they hold the feasts of Virgen de las Nieves and San Bartolome both of which are extremely entertaining.

The Convent of San Francisco was built in 1596 by the Davila de la Cueva family and is now the Parador Hotel Almagro, a four star hotel. It is located in the most attractive and historic part of town and its interior is both elegant and serene. The luxurious Louis 15th room has been furnished in keeping with that period and all the bedrooms, which were originally monastic cells, are like a tranquil haven. With beautiful galleries, no less than fourteen inner courtyards with a splendid garden, it makes a very peaceful place to come back to at the end of a long day.

Beyond Almagro are the spas at Fuencaliente and Santa Cruz de Muddle. Set in beautiful forest, the Fuencaliente Spa is located in a very dramatic setting known as Hunters' Paradise because of its stunning landscape, rugged peaks and abundance of large game. Here you can pamper yourself with one of its many therapeutic treatments.

If you are looking for a destination set amongst the mountains, with spectacular volcanoes and lakes to explore, tranquil accommodation and spa treatments to pamper yourself with, then look no further than Almagro. It is certainly a unique combination.


About the Author: This article was written by Susan Bartle who is a seasoned traveller and freelance travel writer.
Originally from Canada she currently resides in the UK and recent research has resulted in expert knowledge of the Pousadas and Paradores. Click here to read about other destinations where these luxury hotels can be found.
Or visit her travel website covering countries in Europe and all around the globe.