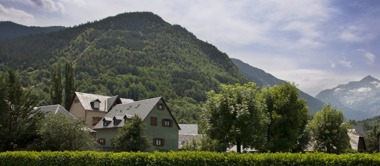 ARTIES, Lleida, Spain
Arties is on the border of France in northeast Spain and located in the region of Lleida. Nestled in the Aran valley, it is an area of outstanding beauty and with pleasant temperatures even in winter it is very popular all year round.

Most of the houses are built in a traditional mountain chalet style using an attractive mixture of wood, slate, and stone. Towering over Arties is the Mantarto Peak which stands 3,000 metres high. During the summer visitors can enjoy a wide range of outdoor pursuits which includes everything from hiking, mountain biking, horseback riding, paragliding, and hot air ballooning. The villages of Sort, Llavorsi, and Esterri d'Aneu also offer many water sports such as white water rafting, canyoning, kayaking, and climbing.

One of the oldest buildings in Arties is the Santa Maria Parish Church which was built during the 11th century and is a Romanesque design. The bell tower was an addition that was added two centuries later, and inside the church is a superb collection of paintings from that period. Also worth visiting is the Gothic 14th century Sant Joan church and the village's two main civic buildings built during the 16th century; the Paulet House and Portola House. Arties also has a recreation park, and in a specially marked protected area is a unique opportunity to visit the habitat of two bears.

Beyond the village is a well preserved Roman sulphur bath which is fed by two springs. Because of its numerous lakes and rivers, this area has always been a very popular spot for those who enjoy fishing. The Aiguestortes National Park has no less than 200 lakes and some stunning rivers as well as dramatic gorges and waterfalls.

From April to October one of the best ways to take in the scenery is to ride on the old vintage train that travels right through the region. The journey will take you from Lleida to La Pobla de Segur with great views of the lakes and the Pyrennees. The train however only runs a few days per month, so it is wise to book in advance. If you cannot get tickets for any reason, there are also regular scheduled trains which cover the same route.

The Boi valley is home to some of Europe's finest 11th century architecture, and has many beautiful churches that have been given World Heritage status. Although found in different towns and villages each has the same delicate stonework and slender style bell tower. Inside they are decorated with lovely murals, and although many of the paintings are only reproductions of the original they are still fine examples of Romanesque art. The originals are on display at the Catalonia National Art Museum in Barcelona.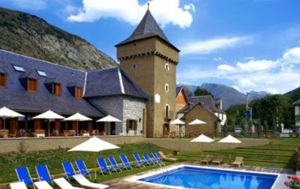 The Spanish Pyrenees has a total of sixteen ski resorts operating during the winter months. The resorts range from small, friendly, family resorts to the bigger ones such as the Boi Taull Resort which has the highest ski slopes in the Pyrenees. The Candanchu-Fondo Resort is perfect for learning cross-country skiing and has eight approved circuits for the more competitive skier. Baqueira-Beret is the most outstanding ski resort in the Catalan Pyrenees with highly demanding runs for experienced skiers, yet ideal slopes for beginners. However, there is always a wide choice of après ski activities and services available no matter which one you choose.
For those who enjoy a bit of ice skating, Vielha, which is the capital of the Aran valley, has an Ice Palace with its own ice rink. There is also a heated swimming pool if you would prefer to do something a bit warmer. The Caldas de Boi Spa Resort can also offer a warmer option with opportunities to relax in their thermal waters.
If you are looking for comfortable accommodation, Arties has its very own Parador. The Parador Arties (Hotel Don Gaspar de Portola) is a luxury mountain retreat with an outdoor seasonal swimming pool during the summer months and a heated pool during winter. Perhaps an even greater draw though is its wonderful restaurant serving hearty regional dishes which is always welcome at the end of a long and active day.


About the Author: This article was written by Susan Bartle who is a seasoned traveller and freelance travel writer.
Originally from Canada she currently resides in the UK and recent research has resulted in expert knowledge of the Pousadas and Paradores. Click here to read about other destinations where these luxury hotels can be found.
Or visit her travel website covering countries in Europe and all around the globe.